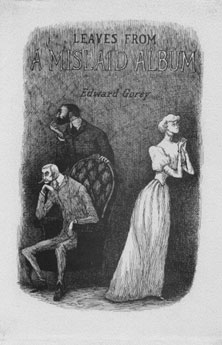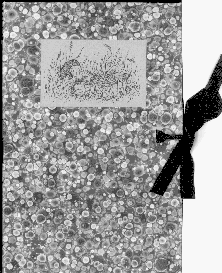 LEAVES FROM A MISLAID ALBUM

First edition: New York: Gotham Book Mart, 1972. Packet of 17 cards, laid into an olive-green folder, stamped in black, enclosed in a light green envelope with black pictorial stamping. Limited to 500 numbered copies. "First Printing" on copyright page.

First limited and signed edition: [New York: Gotham Book Mart & Gallery, Inc., 1972.] Packet of' 18 cards, laid into a folding box, tied with a black ribbon; the folding box is covered with a decorative paper in shades of green, brown, and black; beige cover and spine labels stamped in black. Limited to 50 roman-numeraled copies and 26 lettered copies signed by Edward Gorey. "First Printing" on card carrying copyright notice.