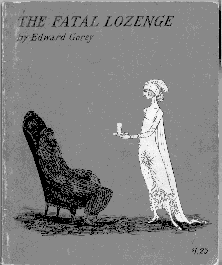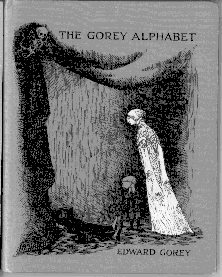 THE FATAL LOZENGE: AN ALPHABET

First edition: New York: Ivan Obolensky, Inc. [1960]. Stiff white wrappers with dark blue and black stamping. No statement of first edition.

Note: The first edition has a price of $1.25 stamped in black on the front wrapper. The second printing has a $1.75 price. Otherwise the two printings are identical.


First English edition: Retitled: THE GOREY ALPHABET. London: Constable [1961]. White boards with cloth-like texture with pink and black stamping; issued without a dust wrapper. "First published in Great Britain 1961" on copyright page.

Note: The drawings on the front and rear covers of the English edition are new, completely different from the drawings on the front and rear wrappers of the first edition.