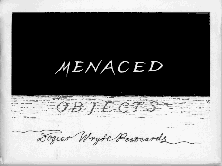 DOGEAR WRYDE POSTCARDS: MENACED OBJECTS SERIES

First edition: [No place] [circa 1989]. 16 postcards in white envelope with black pictorial stamping. Limited to 250 sets, numbered and signed by Edward Gorey. A first edition statement appears as part of the colophon card.

Note: "Dogear Wryde" is an anagram of Edward Gorey.