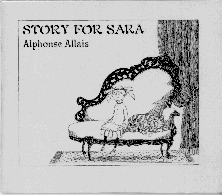 STORY FOR SARA: WHAT HAPPENED TO A LITTLE GIRL
by Alphonse Allais put into English and with drawings by Edward Gorey

First edition: New York: Albondocani Press, 1971. Yellow wrappers with black pictorial stamping. Limited to 300 numbered and 26 lettered copies signed by Edward Gorey. A statement of first edition appears as part of the colophon.