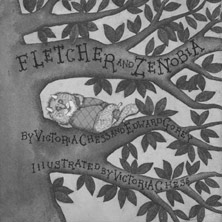 FLETCHER AND ZENOBIA,
by Victoria Chess and Edward Gorey

First edition: New York: Meredith Press [1967]. White boards with multi-colored pictorial stamping in shades of brown, green, blue, red, orange, and black; pictorial dust wrapper. "First edition" on copyright page.

Note: Illustrated by Victoria Chess, and the text was a collaboration.