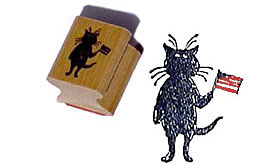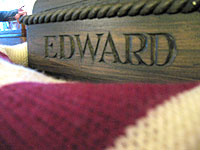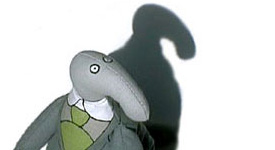 News & Events
The Wadsworth Atheneum opens Gorey's Worlds, an exhibition of Edward Gorey's personal art collection opens Feb 10. Gorey collected works by Manet, Meryon, Atget, Albert York and many others. The exhibition runs thru May 6 in Hartford, Connecticut.

Swann Galleries auctioned fifteen original works by Gorey on Dec 14. The six lots, 43 thru 48, contained art from The New York Times (which did exceptionally well) and John Ciardi's The Monster Den (1966). Congratulations to the winning bidders!

Items from the Goreyography Gorey Collection at the Library of Congress were displayed with Halloween-themed Americana in an interactive exhibition from Oct 27 to Nov 1. The Goreyography collection was gifted to the Library of Congress in 2014. Download the bibliography and checklist in PDF format.

Elegant Enigmas, the Art of Edward Gorey, continues touring Japan through April, 2018. Developed by the Brandywine Museum in 2009, the exhibition will show at four new venues. Stop by our East Wing for more details.

MÉLANGE FUNESTE re-appears, from Pomegranate.

Christopher Seufert's Edward Gorey documentary is still in production. Visit the Edward Gorey film project's Facebook page for details.





But I Thought It Was a First Edition
To help separate the wheat from the reprints, peruse the illustrated bibliography of Gorey's primary works. View alphabetically or chronologically.






Desperately Seeking Gorey
Look for the Serious Collectors link in our illustrated bibliography pages. Makes finding scarcities a tad too easy.

One-click searching for eBay, Abebooks, and Amazon!


Give the Gift of Gorey
Who sells all those bat tees, posters, lunch boxes, sterling silver Doubtful Guest pins, calendars, and of course - books? Find out at the Edward Gorey Marketplace. Open 24/7.


Goreyography Reviews
Recent books:
..Nelsen's Sam and Emma
..His Cover Art & Design
..The Tunnel Calamity

Recent events:
..EGH 'Aesop to Updike' exhibit coming...
..EGH Envelope exhibit in 2012
..Elegant Enigmas tours America
..Edward Gorey House in 2010

Guest reviews & interviews:
..Peter Neumeyer at the Cartoon Art Museum
..John Carollo on 'Musings' exhibit
..Kevin McDermott and 'Elephant House'


The Backroom:
Original Gorey Art!
It's where the special goods are kept. Now, booksellers are bringing original Gorey art out to the electronic frontier. Come in, and take a look.


Those Paperback Covers!
Since 1953, Gorey designed and illustrated dozens of mass market paperback covers. See over 60 covers on exhibit.



The Play's the Thing
Seen by few, Gorey's theatrical productions live on in the art he used to promote them. Works commissioned for other theatrical productions on view as well.